About Riggers UK
At Riggers UK we believe in innovation and excellence. We're the longest serving riggers in Falmouth, established for over 25 years. With one of the most experienced teams around, we'll find the best rigging solutions for your boat, to keep you sailing safely, efficiently, and with peace of mind.
Modern materials have revolutionised the rigging world, and we're passionate about staying right up to date. We love the old ways too, but we're not sentimental. So whether it's re-rigging a thoroughbred racer, or bringing a modern stylish twist to an old classic, we'll find the best way to get the job done.  And with a long racing background, from Admiral's Cup campaigns to Working Boat racing, you'll know you're getting the best advice, borne from years on the water.
As the contracted riggers for Rustler Yachts, we know all about big projects. With two 80′ rigging and rope workshops, there's really no job too big. We'll tackle anything, from the supersized to the humble sized, with the same enthusiasm. Contact us today to find out more.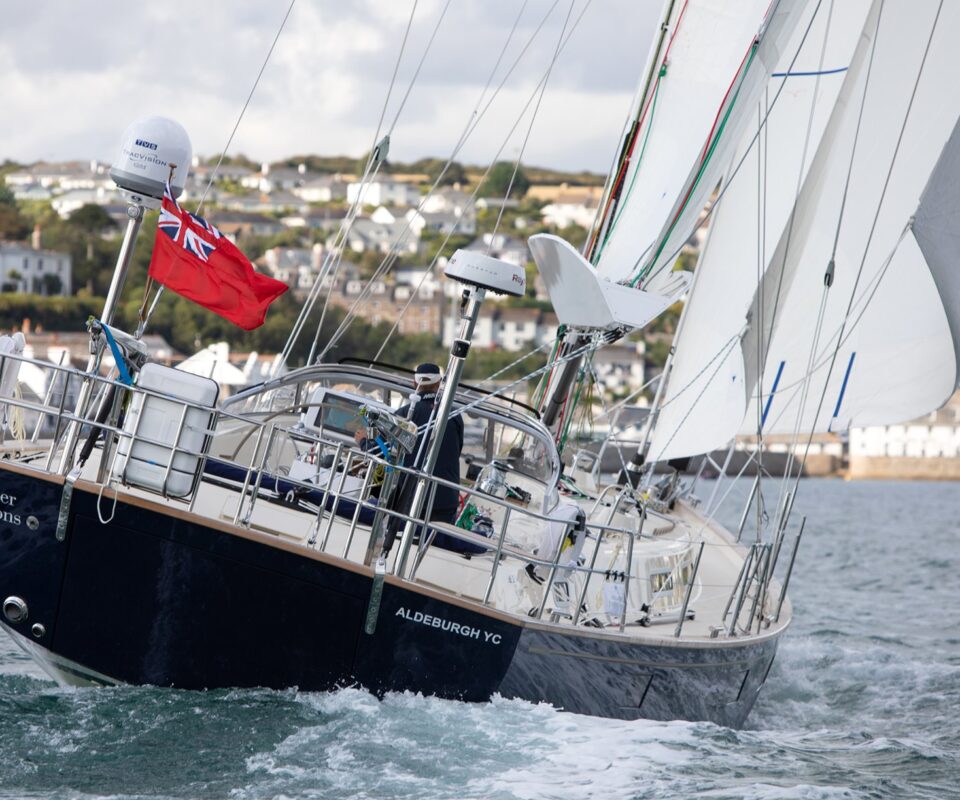 What we do
RIG INSPECTION AND SERVICING
Regular rig inspections and servicing should be part of any owner's schedule. Our expert team can identify wear and tear before it becomes a big problem, keeping your rig safe and strong, and saving you money on big bills later.
SPARS
Spars are the big-ticket items in your boat's rig, and you want to be sure you're getting the best. We work with leading manufacturers such as Selden-Proctor, Z-Spars, and Axxon to supply and fit the right spars for your boat. We can step and un-step masts at our waterside workshop in Penryn, but we're also fully mobile in bringing this service to you.
STANDING RIGGING AND FURLING SYTEMS
The strength of your rig is in the standing rigging, and there are a lot of options when it comes to materials and terminals. Working with top suppliers including Sta-Lok, Petersen, BSI and Blue Wave, we'll help you keep your standing rigging solid and trustworthy. We also supply and fit the best furling systems from manufacturers like Bamar and Selden, making sail furling easy and stress free.
DECK HARDWARE
We can design and fit stylish and intuitive deck plans, making your boat safe and simple to sail. With all your essential controls easily at hand, you can enjoy sailing at its purest, tangle free and with minimal effort. We supply and fit winches, traveller systems, sheet tracks, and much more, using suppliers such as Harken, Lewmar, Andersen, and Spinlok. We can also service your existing hardware, keeping your boat's sailing systems smooth, efficient, and safe.
ROPEWORK
Ropes are the arteries of your boat's rig, transferring loads to the structure of the boat and pulling it through the water. So they need to be strong and properly spliced. Using respected suppliers, such as English Braids and Liros, we can spec the right rope and size for the job, to get the most out of your sailplan. We also make made-to-measure mooring strops, decorative ropework, and soft shackles. If there's anything else you'd like made from rope, just ask. We can do it.
RIG TUNING
Whether you're racing or cruising, a well tuned rig is fundamental to a well performing boat. In racing terms it can be the difference between getting to the windward mark first, and fighting it out in the pack with the also-rans. For cruisers it's an issue of safety and comfort. A well balanced boat gives it's owner confidence at sea and makes it easier to sail, saving wear and tear on crew and autopilots. And an optimised rig can shave hours and even days off of long passages. With years of experience, we can quickly and efficiently get the most out of your boat's rig.
ARCHITECTURAL RIGGING
We're not just about boats at Riggers UK. We can help you with any number of architectural rigging jobs. We've worked on installations at the Shetland Museum and Archives, and the National Maritime Museum in Falmouth. From balustrading and flag poles, to art installations and suspended staircases, if you can think of it, we can rig it.
Email
Phone
Address
Riggers-UK
At The Boathouse Commercial Road
Penryn
Cornwall
TR10 8AE